Meet the Coaches
We create an environment where people can get better.
You will find joy in fitness again and learn new lifestyle habits that will literally change your life.
Move Better, Feel Better, Look Better
---
 Tay Espinosa
Tay Espinosa was born in Chicago but raised mostly in Miami Florida. After graduating from the University of Miami with a bachelor's degree in nursing Tay was commissioned as an officer in the Navy Nurse corps. She was stationed in the bay area where she met her husband Julio, a career naval officer.
In 1991 she was deployed to the Persian Gulf on the hospital ship, Mercy in support of Desert Storm. During the 9 month long deployment she began to run to work off stress. This habit continued upon return to the United States but seriously took hold about 10 years later when she ran her first marathon with Team in Training. The thrill and camaraderie of training for endurance events contributed to her interest in fitness and a healthy lifestyle. Going to a gym did not provide motivation or the "fun" factor she craved in her workouts until she found Fitness Revolution.
Tay has been an avid client since 2006. She has achieved and maintained a superior level of health and fitness through working with Jeff and Tiffany. Having the demands of two children and a very busy husband she strives to take care of herself so she can take care of her family. As a coach, Tay wants to help others reach their health and fitness goals. She believes everyone has the capability to achieve a healthy lifestyle with the workout and nutrition support of the Fitness Revolution Team.
N.E.S.T.A Certified Personal Trainer
Precision Nutrition Level 1 Coach
– Tay regularly teaches Napa 9am and 12:10 sessions and is our Nutrition Coach
---
Carson Carattini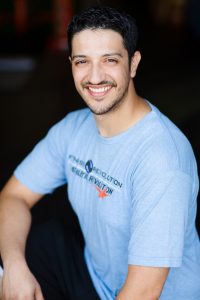 Carson is originally from San Jose, Ca, but has lived all over the Bay Area as well as spending some time in Charlotte, NC. He is a lifelong athlete, playing basketball and football, but mainly baseball starting from the age of four all the way until the completion of High School.
While playing competitively may have ended, his passion for athletics never did, as he played intramurals in college and hoped to pursue sports at a professional level. In 2002 he began a coaching career, teaching middle school sports in the South Bay. Since then he has moved through the ranks coaching, club, high school and college basketball. Currently he coaches men's basketball at Napa Valley College. His passion for teaching athletes to be successful both on and off the court is what keeps him motivated and enthusiastic about coaching.
Shortly after becoming a resident of the Napa Valley in August of 2011, Carson connected with Fitness Revolution/Athletic Revolution. Seeking a way to integrate fitness and basketball, FR/AR was an obvious fit. It was only a matter of time until he found the added benefits of camp. He hopes to share his passion of fitness and athletics with clients throughout the Valley, not to mention the vast array of knowledge and assistance FR/AR has to offer.
Carson, his wife of four years Katherine and their new son Conall, are really enjoying their new home in the Valley and their experience with FR/AR. They have found comfort in the family FR/AR has provided, and are off to a great start of a lifetime of health and fitness.
N.E.S.T.A Certified Personal Trainer
I.Y.C.A. Certified Youth Fitness Specialist I
Certified Functional Movement Specialist
– Carson regularly Coaches the St. Helena 6 am sessions, Napa 8am and our Athletic Revolution Youth Athlete Sessions.
---
Courtney Pierce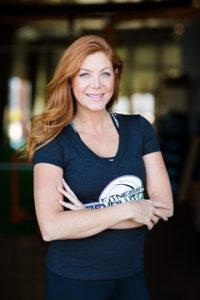 Courtney Pierce is a third generation Napa native who has always loved being active. She was a competitive athlete throughout high school and college. She graduated from UC Santa Barbara with her BA in Psychology and went on to work in the fashion industry. After a decade of managerial work along the West Coast, she decided to move back to her home town and focus on her passion for fitness.
In order to stay motivated, she tries to participate in one event every month. She is an avid runner who logs in anywhere from 10-30 miles a week. Recently, she added cycling to her workout mix as well! She has found she is the happiest when working out daily and wants other people to find that level of happiness for themselves. When she isn't training she still loves fashion, traveling, and photography.
Courtney heard about an open coaching position at Fitness Revolution through her close high school friend and long-time boot camper. After falling in love with the ideals and values of Fit Rev, she completed the internship program with Jeff.  She is certified as a Personal Trainer through the National Association of Sports Medicine (NASM) and is also CPR certified from the American Red Cross for both adults and infants.
N.A.S.M. Certified Personal Trainer
-Courtney regularly coaches our Napa 9:00am, 5:15pm, 6:00pm
---
Nicole Nickelson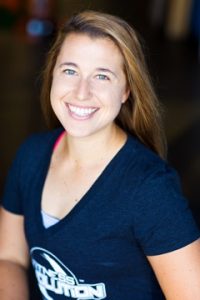 To Nicky, fitness and health is more than a trip to the weight room or an hour on the elliptical. It is a way of life that not only provides physical benefits but it provides the ability to be your best self and connects you to your core being. After most of her life being overweight and making unhealthy decisions, Nicky decided to take the first step into a gym which changed her life. Today, she focuses on finding balance and doing all things that nourish her soul. She wants to share her story and her personal struggles with any one who has been in a place where she has been in her life.
Nicky saw Fitness Revolution as a group of individuals that goes above and beyond for each member that walks through their door. The support, care and dedication to all members attracted Nicky to want to be a part of the FR family and she is incredibly excited to start this journey.
She is happiest when being surrounded by those that she loves, teaching spin classes, creating art (hello coloring books!), doing yoga as well as meditating and hula hooping in the sunshine.
N.A.S.M. Certified Personal Trainer (Pending)
-Nicky regularly coaches our Napa 5:30am sessions
---
Vanessa Polstin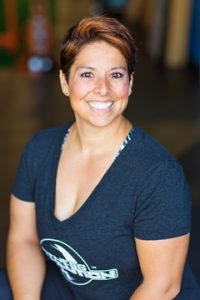 Vanessa Polstin is 36 years old and has been married to her husband Chris for the past 6 years they have a 2.5 year old little girl names Rylee. Vanessa was born and raised in Napa, Ca In addition to working mom and wife, Vanessa is also currently attending school full time to finish her Bachelor's degree in Early Childhood Education. Right now, there is not much room for many hobbies in Vanessa's busy schedule, however she considers working out her main hobby and thoroughly enjoys working hard at becoming physically and emotionally healthy. When she is not busy working, studying, working out or pulling mommy and wife duties,she absolutely loves spending time with her family by going on walks and hikes, taking road trips playing games and having movie nights.
Vanessa has involved herself in everything Fit Rev, workouts 5-6 days per week, every challenge there was in 2015, yoga and more…
The highlight of her fitness journey this past year was getting voted as the "Member of the Year" by her peers and the opportunity to expand her fitness and health journey by giving back to FR and becoming an intern.
-Vanessa regularly coaches our Napa 5:30am, American Canyon 5:00am sessions
---