Fitness Revolution Napa: Butternut Squash Soup (Whole 30 Ingredients)
I know you are getting the weekly newsletter from me with a great article and recipe each week but I wanted to pop in and give you something extra this week!
This time of year, when the weather gets a bit darker and a bit colder I want to go straight for the comfort foods and skip my work out! I know from working with hundreds of other busy, working mama's that it isn't uncommon. So I thought I would share a few things this week that help me stay on track this time of year!
I love to have something warm to eat when the weather gets cold. And I need it to be fast and easy because I am always rushing off to a meeting or a phone call or a kids practice or game…. (sound familiar?)
I love this recipe because it is literally ready in minutes, it tastes– Uh-mazing –and it is Whole 30 which is great because I know it is causing a positive effect in my body!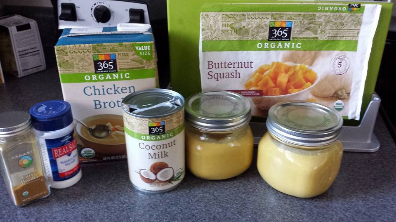 Butternut Squash Soup
3 Cups of Roasted Butternut Squash
OR Bag of Frozen Butter Nut Squash
1 Cup of Canned Coconut Milk
2 Cups of Chicken or Vegetable Broth
1 tsp. Salt
2 tsp. Curry Powder
Or instead of the Curry Powder you can add some extra salt, a dash of cinnamon and a cup of applesauce. 
Put the cooked squash in a blender or food processor add all other ingredients. Blend until smooth.
You taste it and decide if you need a little more curry powder or salt and pepper.
Portion it out into 4 servings. I like to save mine in mason jars in the fridge so they are easy to grab and go! This is great with a squeeze of lime!
Give it a try.
Let me know how you like it, okay?
Be sure to watch your inbox tomorrow I am going to send you my favorite workout for this time of year. This isn't just any workout it is the "it's cold, I'm busy and I gotta get this done – workout" (sound familiar?)
Have an amazing Monday my friend!
My Best,
Coach Tiffany
Fitness Revolution
p.s. Registration is now open for our Fall Transformation Challenge… >>Picture Your Progress Premium Coaching Program<<….. We start on Monday 10/10 and finish just in time for the Thanksgiving Holiday!